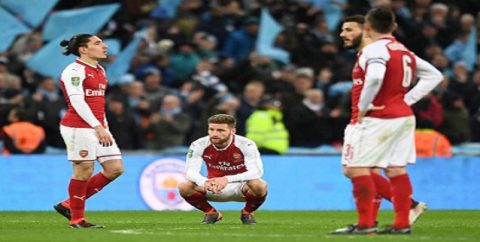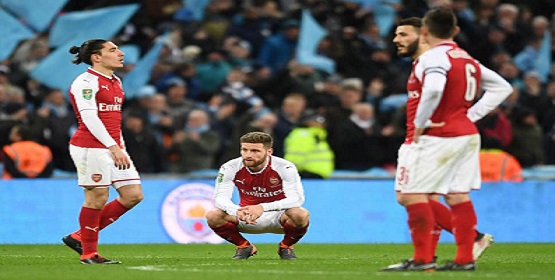 Understanding Positions and player Roles in Football (Defenders) by Eddie
It's one of those boring international break again. No action and we all have to sit and bear the games between countries. Which most of us find very boring while the season is on for us, Meh!.
I had an argument with Lenohappy and Joe about Xhaka's position and Torreira's position. I found out most people don't really know the difference between what they both do and don't know their positions, they keep saying Xhaka is our DM while Torreira is our B2B. I was surprised, and I had to explain further, but then I still found someone who failed to grasp it and I found out that most of us fans, we don't really know the technical aspects of the game, and it's fair, we are fans and it's not our job to know, and then I thought since it's a free weekend from club football, why not compile an article and explain the positions on the pitch and their technical terms so a lot of other fans will know and understand our team better.
There's a lot to cover so I'm forced to have different articles on the defenders, midfielders and attackers.
Also I'll be leaving the keypoints I got from Bundesliga official under every role I explain, so you know this isn't just my imagination or fantasy. This whole article consist of my knowledge, with additional information from sports analysts, and well known football sites.
Position:
The Goalkeeper(GK):
His primary job is to stay in front of goal, he's the last line of defense, when all fails, he's the last and only option. He's the only one allowed to handle the ball with his hands inside the box. His main job is to keep the ball out of the net no matter what. The GK position actually has another role attached to it. This role wasn't all popular and wasn't deem as important. This role in modern football is on the rise and has become one of the most important roles in football. This role in the goalkeeper position is.
Role: The Sweeper Keeper(SK):
These guys are your advanced Goalkeepers. JOHAN CRYUFF once said "In my teams, the goal keeper is the first attacker and the center forward is the first defender", a philosophy that Pep Guardiola would later build his legacy upon.
In simple terms, a sweeper keeper is a goalkeeper who controls the space behind the defensive line by pushing up and staying as close to it as possible and actively participating in his team's play when they have the ball, thereby operating as an eleventh outfield player. To do this, a sweeper keeper is required to be good at using his feet with the ball, not just with his hands.
He's the first attacker on the pitch and he can actually control attacks from the back, he can drift outside the box when needed to lay out passes to his teammates, both close and upfield.
Termed as the best Goalkeeper in his prime, Neuer became the GK to make the sweeper keeper an important and popular role in football. Pep ended up loving the role so much while at Bayern that, he went ahead to adopt it. He attempted getting Ter Stergen in his first season but Barcelona rejected it and he got Bravo instead.
Currently the best sweeper keeper out there is Ter Stergen, following suit is Allison Becker, Ederson, Tim Horn, Sergio Rico, PSG's Areola, and Bernd Leno / though the list is long.
· The most defensive position in soccer
· Main job to stop opposition goals
· Also organises the defence and builds play from the back
· Wears gloves, and a different coloured jersey from teammates
· Only player who can use their hands in their 18-yard box (apart from throw-ins!)
Position: The Defenders.
Role: The Left Fullback (LB):
His duty is primarily to defend, hold the line and stop attacks coming down his wings, his main job is to stop and disrupt the opponents wingers from playing and getting close to the box. While he's allowed to overlap once a while to go support attack on the wings, his main job is to hold the defense line alongside the Center Defenders.
Position: The defenders.
Role: The Left WingBack(LWB):
Not so different from the Left back, but he's required to stay in the middle side of the pitch, keeping a balance between attacking his flanks and defending his flanks from wingers and wide midfielders. Not on the same level as a Left back defensively though.
Position: The defenders
Role: The Right Fullback(RB):
The same responsibilities as the Left Fullback, but this time on the right side of the pitch.
Position: The defenders.
Role: The Right Wingback(RWB):
The same responsibilities as the right wingback, but on the right side of the pitch.
Position/Role: Full-back
· Lines up either side of the defence
· Marks opposition wingers
· Provides support for the wide midfielder ahead of them
· May overlap and send crosses into the opposition box
· Often takes throw-ins
Position/Role: Wing-back
· Modern variation of the full-back
· Overlaps and sends crosses into the opposition box
· Still marks opposition wingers when needed
· Expected to stay on their touchline
· One of the most physically demanding positions
Position: The Central Defenders (CB):
The average football fan has no idea that under this category there are different roles actually and responsibilities varies a lot.
Role 1: The No-Nonsense CB/Stopper:
You might ask is that even a term in football? Yes it is. Study football and make research on these type of defenders. They're aggressive, They're mostly focused on defending, their strength lies in defending and making sure the opponents loses the ball. These guys would hold the line no matter what, clear the ball away from their box, and half, if possible. These guys can be termed as dirty players sometimes because of their aggressive ways. A no-nonsense CB doesn't care how, he just wants to get you to lose the ball, he just wants to win the ball back from his opponents attackers. There are so many legends in this role; Carles Puyol tops this list, though a classy man and footballer who respected his opponents, you don't want to face him when it's kickoff time. Nemanja Vidic, Robert Huth, Vincent Kompany, Martin Keown, Diego Lugano, Sergio Ramos.. Ryan Shawcross is England's most popular one in this role Etc. (By the way, Dayot Upamecano is one very rated young No-nonsense defender.)
· Shuts down opposition attackers
· May employ zonal or man-marking strategies
· Brings the ball out from the back
· Often tall and physically strong
· Bravery and heading ability desirable, for use in either box
Role 2: The Ball-Playing CB:
These are the guys top modern football coaches are after the most right now. Just like your creative midfielders, these are your Creative defenders. If you want a very good defender who you can count on to not lose possession of the ball, who you can rely on to complement your sweeper keeper to orchestrate strategic attacks from the back, then these are the guys you're looking for. Their primary objective is to defend and hold the line. They must be good with the ball at their feet, composed and technical with the ball at his feet. These guys are tactical, they drop into wide or small spaces at the back to get the ball from the GK/SK before distributing it the next best option. Vision for long passes, short passes, they possess it all.
This list features known Ball-playing defenders like Barcelona's Gerard Pique, Sergio Ramos (Who is also a no-nonsense defender, this man can do it all. Ever wonder why he's considered as the best in his era?) Leonardo Bonucci, Matt Hummels, Laurent Koscielny, Jan Vertonghen, Aymart Laporte, John Stones (Ever wonder why Pep happily splashed the cash on him at his young age? His ability on the ball is the reason, he's been labelled as a risk taker, Pep once said he (Stone) is the only player with balls in the dressing room. There's proof in his stats). The perfect modern day Ball-playing defender is David Luiz. (Peharps because we had none after Koscielny left, an aging Luiz was seen as the best option available to help carry out Emery's style from the back?). Surprise! Guess who's on this list again? Dayot Upamecano. (The boy has the ability to be a No-nonsense CB and has the ability to keep the ball at his feet, composed and technical with the ball at his feet. Now you're still wondering why RB Lepzeig wanted over 70million for him?). We lack Ball-playing defenders to really play from the back, I think it's the reason We've been trying to bring in defenders who can do that.
· Same, central defensive position as the stopper
· Also more likely to be used in a back three
· Keeping the ball as important as winning it back
· Confident in possession
· Greater onus on long, accurate passes
Role 3: The Center Backs:
Mostly the popular and preferred role in football for ages now. The Center Back doesn't have to be a BP defender or a NN defender. He has his own qualities and duties, his duties involves Holding the line of defense, restricted-dribbling, safe-passing, restricted-shooting and disciplined centre back passer and aggressor. They seem to be able to do a bit of everything right? Legends and very respected players on the list includes Alessandro Nesta, Paolo Maldini, Liliam Thuram, Javier Zanetti, John Terry, Sol Campbell, Rio Ferdinand, Thiago Silva.. Current footballers, Virgil Van Dijk.. De Ligt, Rob Holding…(this is what we all wanted Mustafi To be very good at)
· A safety net for the stopper(s) alongside them
· Races to cover gaps when defence is breached
· Less concerned with man-marking
Reads the game from deep
· Joins midfield build-up when in possession
There's the Sweeper role for the Central defenders but I'm neglecting it because the role is no longer being used by modern day footballers.
These roles all are used and fixed by the coach, depending on the managers tactics, style of play and philosophy. If you ever wonder why Pep spends money and it doesn't go to waste the way some coaches did at United. This is the reason, Pep knows his football, what he demands, what he needs so he goes for it.
If you once asked why was he spending that much on Laporte? Now you know why he went for Laporte and why he doesn't waste time in getting his players. He pays whatever fee a club demands. If you have it, Pep would spend it on you. No wonder he's seen as the best coach in today's game. You can argue he spends million on players, you can't deny his tactical prowess on the pitch and his teams gameplay.!!
Next up the midfielders!!
Eddie Hoyte