Ex-Arsenal Women's midfielder Mana Iwabuchi has hung up her boots. The World Cup winner joined Arsenal in 2021 from Villa, where she hoped to play a massive role as a Gunner, but unfortunately, she didn't. Eidevall didn't use her as much as she may have hoped, despite her trophy-laden career…..
🇯🇵❤️ @buchi_mana https://t.co/meWoVXO55E

— Vivianne Miedema (@VivianneMiedema) September 1, 2023
Even last season, with injury troubles, he only played her 3 times and he even allowed her temporary exit in January as she moved to Spurs on a loan deal. She didn't dazzle at Spurs, despite playing 13 times,  and missed a spot in the Japan World Cup squad. Now, she's decided to leave football, and she's looking forward to the next chapter of her life.
Vivianne Miedema, who's enjoyed playing with the 30-year-old at Arsenal and Bayern Munich, has penned a beautiful message about her ex-teammate. Sharing how fond she was of Iwabuchi, she wrote on Facebook: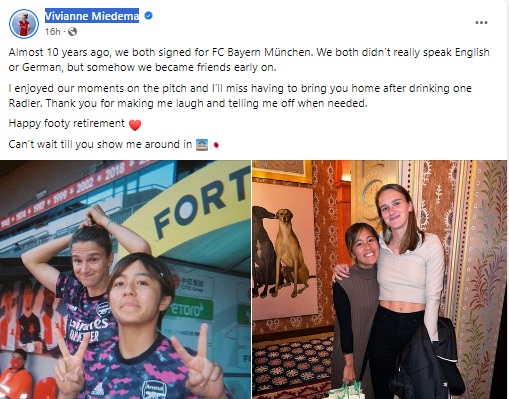 She wrote: "Almost 10 years ago, we both signed for FC Bayern München. We both didn't really speak English or German, but somehow we became friends early on.
"I enjoyed our moments on the pitch, and I'll miss having to bring you home after drinking one Radler. Thank you for making me laugh and telling me off when needed.
"Happy footy retirement!
"Can't wait till you show me around in [Japan]."
All the best to Iwabuchi, or Manadonna (as she used to be called) and may she prosper whichever path she takes.
Michelle Maxwell
Follow Michelle on Just Gooner Women on Twitter for regular updates on the Arsenal Womens Team!
Do you want to read more about the Arsenal Women's Team? Click here….