Arsenal's official third kit has supposedly been leaked online, and we at Just Arsenal are seriously hoping this is is a hoax.
Arsenal have already been fruitful in the transfer market, signing Granit Xhaka from Borussia Monchengladbach, as well as failing in a bid to sign Jamie Vardy, and have most likely placed bids elsewhere also.
The transfer window is yet to even open, but we are ever-active as we seek to have our squad together at the earliest possible stage.
The latest rumour is not on a possible transfer target however, but of our supposed new third kit for the coming season, and we are in hope that the word 'rumour' is exactly what this proves to be.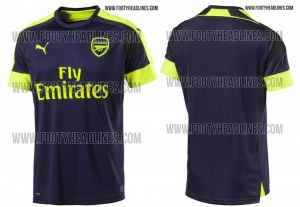 The luminous yellow mixed into this shirt is enough to make a Sunday hangover 20 times worse.
Last year's third option was bad enough with those three coloured stripes on the midriff, but I will take back any previous reservations about that shirt due to the latest eye-sore.
This shirt will likely only be used for the Champions League campaign, where we will be looking to escape from the group for the 14th consecutive time, and will also be hoping to pass the round of 16 for the first time since 2010.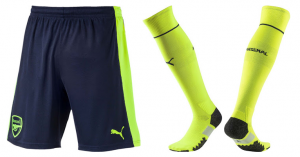 Would you buy this kit? Am I being overly judgemental? Maybe it will just need to grow on me…