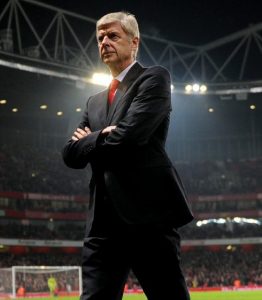 For the first time ever under Arsene Wenger Arsenal finished below the Champions League places last season, and we all know that the endless speculation about whether he would be extending his managerial contract, after 21 years at the club, turned into a media circus with just about every single press conference ending with exactly the same questions.
Now that he has signed back on for another two years, Wenger is willing to admit that the uncertainty affected the results on the pitch, but he is hopeful that the same tensions won't resurface during this campaign. "For me it will be a change because it was a bit eternal, a repetition of the press conferences about that," Wenger said on Arsenal.com. "Maybe I made a mistake and allowed that to happen because I didn't commit early enough.
"I think at some stage I did not think it would be a handicap for my commitment and it was not. But it was a bit of a handicap because it created a climate of insecurity and a lack of clarity about my person that maybe did not help at some stage.
"I believe everyone is focused on the new season and giving absolutely the best, so overall that is what we want as we go into it.
"We basically had three seasons last year: the first part was very positive, the second part was very negative, and the third part was very positive. I believe it is important that we analyse well what happened to us, and where we can improve – and then transfer the optimistic final part of the season into the new campaign and start in a very strong way."
of course our third and final optimistic part of the season was also related to the tactical changes that Wenger finally made, which dragged us out of our depressing run of results. If we can carry on that form right the way through the coming season, then there is no reason why we can't be serious challengers for the title again. The uncertainty over Wenger's contract was quickly fixed at the end of last season. If only the contracts with Alexis, Ozil and the Ox were fixed just as quickly….
Admin