Any Arsenal fans expecting an easy ride in tonight's fourth round EFL cup clash might want to rein in their expectations a little, according to both Arsene Wenger and the captain of Reading, Paul McShane, despite the fact that the Gunners are playing at home against lower league opposition.
In a report on the Arsenal website, our manager was quick to point out that the last two cup clashes with the Royals have been hard fought affairs, with Arsenal coming back from four goals down to win 7-5 in 2012 and then winning an FA cup semi-final last season by 2-1, with both games going to extra time.
Wenger said, "[The 2012 game against Reading] was one of the craziest of my career because we were 4-0 down and finally won it 7-5.
"It's always tense against them and always passionate and you would expect that again on Tuesday, but I am confident that we are focused and will want to respond after our 0-0 on Saturday.
"I felt that the focus of the team was there [against Middlesbrough], the desire was there but maybe we were not as fresh as we could have expected to be because we gave a lot against Ludogorets.
"We had a lot of possession but were not as creative as we are [normally], and not as fast with the combinations as we are used to. It means we have to find solutions to win these kinds of games even when they are very difficult and very tight."
It is not just Wenger who thinks it could be tough for the Gunners today either, as the Reading captain believes that this cup game is almost like a free hit for his promotion chasing side and that could see them produce a great game. It is sure to be exciting and if you are looking for genuine Arsenal tickets then try 247FootballTickets.com first.
Reading's McShane was in the Hull City side that gave us such a scare in the FA cup final a few years ago, so you can see why he says that Reading have no reason to fear tonight's match and that we will need to be on the ball to beat them.
He said, 'As a player, you want to be playing against big clubs like Arsenal week in, week out in the Premier League… so the league has got to be a priority. But that makes Tuesday night's match a bonus game.
'And it's not impossible. If you can get a good cup run and win a few games, suddenly you're in a semi-final and then a final – and if you win a cup, the club talks about it for years and years to come.
'We can play good stuff as we've seen this season, so let's go and test ourselves against the best.
'Arsenal are a very good side, obviously – they had won seven on the bounce before the weekend. But it will be a good test for everyone.
'The shackles are off. We'll go and enjoy the game, and everything is possible.
'It's a game that I look at and think it's a good test.
'Obviously Arsenal are well known for attractive football, but we play quite attractive football as well so it will be really good to test ourselves against them.
'They are at the elite – we are striving to be where they are in the Premier League. So it will be a great night for us and it will be equally as special for the fans. The cup games are always nice for them.'
'Do we fear Arsenal? No, I don't think you should fear anybody.
'You can respect them, you can understand what type of club they are and what they are looking to do.
'But we shouldn't fear them. They are 11 humans on a pitch, albeit with serious quality.'
The big question is, will a much changed Arsenal side be able to show that quality and get past Reading and into the EFL cup quarter-final? Wenger has already made it clear that he will be using his peripheral players, and after he named most of the starters, I reckon the line up will look something like this…..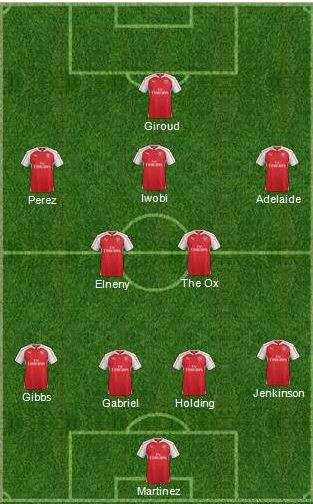 So although you could call all those players "reserves", they are also known to be quality players, and if they can get their team spirit up and running quickly they should be able to beat a mid-table Championship side.
But I am not going to be silly and predict a massacre, but they should be able to nick it…
I predict Arsenal 2-1 Reading
What do you think?
Bob.