Arsenal were electrifying in yesterday's 5-0 win over Aston Villa, and it was brilliant to see the returning duo of Mesut Ozil and Theo Walcott clicking straight away and playing like they had never been injured in the first place.
Arsene Wenger was understandably delighted to see the Gunners win their fourth game in a row without conceding, and believes that the squad is now nearly at the top of their game. Le Prof said on Arsenal Player after the game: "We scored goals and didn't concede. Our offensive game was good even though I believe we had some weaker periods in the game when Aston Villa were in possession. We always looked dangerous when we got in between their lines and defensively we were sound as well.
"Overall it's a positive day for us. I feel a bit for Villa because they gave a lot and fought very hard. Maybe it will be difficult for them but they were caught in the last 20 minutes because they were tired. The second goal was a blow for them but overall they did fight."
When directly asked if he thought that the team had found their form at the perfect time of the season, Wenger ageed: "I would say yes, you are right. That shows as well that we have maybe found a better consistency. That will be very important until the end of the season. Let's show that we can win more, and it shows you as well that when the confidence level is higher and when everybody's back defensively, it makes a difference. Defensive stability is vital – when you don't have that, you suffer."
The result was even sweeter when you realise that Arsenal's best player, Alexis Sanchez, was not even in the squad and five different players got on the scoresheet. When asked about Sanchez, Le Prof replied: "He was not very close today. I'm pleased that many players scored goals and I'm also pleased that we scored goals that were not only sheer power. We were placing the ball and that shows that you do not always need to hit the ball like mad to score a goal. Mesut Ozil showed that, Hector Bellerin showed that. These kinds of goals are more down to technique than power."
Wenger also thinks there is further improvement to come from the rusty returning pair of Walcott and Ozil, despite their great performances yesterday. Wenger said about Ozil: "It's always, 'where does he play? On the left, in the middle?'. I think he still lacks a little bit of competitive edge on sharpness but the quality of his game is exceptional and he's getting back now. He worked very, very hard physically and he's now ready to play again."
And on Theo Walcott, Wenger again thinks he can improve: "I still feel he can score a goal in every game. In his overall game I still think he needs some more sharpness and more contact. He's a very intelligent player and the quality of Theo's game is about the quality of his movement, the quality of his receptions, where he gets the ball. He knows where to be dangerous and when he's in front of goal he can score. I was quite surprised because in the first half he was through but then Jores Okore caught up with him and I think that once he's through, you know that nobody can catch him. Okore must be very quick!"
So it seems that Wenger was happy with the performance (and certainly the result!) but he seriously believes we can become even better, especially when Ozil and Walcott hit peak form, and of course Sanchez returns to the team. Let's hope that we will play even better next Saturday lunchtime….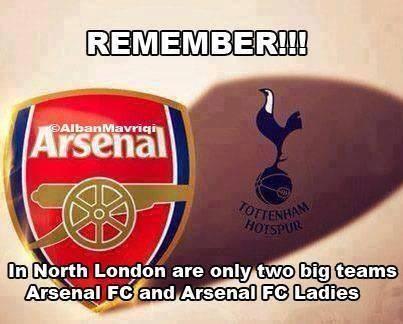 COYG!!!!!