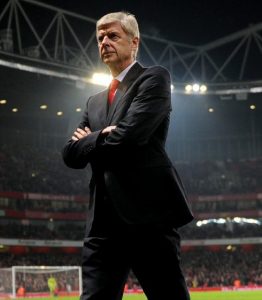 Every single Arsenal article in the last few days has been all about whether Arsene Wenger should resign right now or at least decide to give up his job at the end of the season when his contract runs out, but today he has made it clear that there will no decisions made right now.
Le Prof looked extremely unhappy after the Bayern massacre, and he was asked outright whether he had 'had enough'. "No. No matter what I happens, I will manage next season, whether it's here or somewhere else." he replied. "That's absolutely for sure. On a night like that, of course, I hate defeat and I hate to lose games. I want to do extremely well for this club and I feel a big responsibility.
"You do not stay somewhere for 20 years to then walk out after a defeat like that. It is difficult to take, but I have the strength and experience to respond to that. I would just like to add as well that we played against a good Bayern team who have won this competition [recently], and who have 11 top-class players. We have to give credit to our opponents as well sometimes. It's important to put things into perspective in this competition, and they are top-class players."
We can't help but agree that Bayern are an excellent side, and so were Chelsea (I'm not so sure about Watford!), but how are he and the team going to deal with the dejection after such a devastating loss? "The main emotion is that everybody after a big disappointment regroups and focuses on what is in front of us – the next game – and to take care of the consequences a disappointing result can have on everybody's spirit inside the club and to make sure that we bounce back and focus on the next game. That's what life is about.
"I think we can speak now – I know the media likes this kind of press conference – but what is important for us is to focus on our next game and let everybody judge and criticise. We have to deal with that, with the media, and focus on what is our job. We can analyse with clarity what happened and focus and take care of what is in front of us and what we can influence. It's not the last result – we can influence that when we play against Bayern at home. At the moment, we have to look at our next game."
So life carries on as usual. He says he will still be managing next season so I am assuming that to mean he will still be at Arsenal. He has never let a massive defeat interfere with his day job!
Darren N