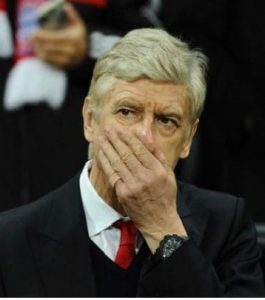 Arsenal travelled to Bournemouth today to face a team that was hovering above the relegation zone and hadn't won for ten games, but then again Arsenal hadn't won any of their last five either and they had an awful away record. Although the Gunners looked nervous they still looked the most dangerous in the first half, and when Bellerin gave us the lead just after the break it looked like we were finally going to win a game at last.
But yet again we had four mad minutes and went behind, and simply couldn't recover without a Sanchez or Ozil to galvanise the side. But Wenger was still amazed why or how we lost. "I feel overall physically it was a tough game for us. We made it most difficult and after that we were 1-0 up. We made two very surprising mistakes that were not even forced errors, it was just a lack of decision-making and overall you come out of the game thinking: how did we lose the game?
"That was it basically, but by being very harsh I would say as well that we have not created enough with the possession we had. We looked a bit lacklustre in the final third, not sharp enough to create chances and that's why as well when you are 1-0 up normally you should create more to be dangerous and we paid for that. It was a combination of the two which made us pay a heavy price.
"Of course it's frustrating. It's very frustrating and very disappointing result for us, especially when you are 1-0 up and we made mistakes in areas where you wonder where they come from."
Disappointing is not the word for a result like today's… With Liverpool smashing the 'invincible' Man City side, we are now a massive 8 points behind the 2nd, 3rd and 4th placed teams, and with Tottenham's 4-0 win yesterday the Spuds are now 5 points clear of us in 5th. We have gone 6 games without a win and we have to play Chelsea again on Wednesday! Yes I guess you could call it disappointing at a push, but disastrous is probably a more relevant word….
Admin