Every single Arsenal fan in the world saw Per Mertesacker duck out of the way when Martin Skrtel headed the equaliser for Liverpool against Arsenal last week, but of course Arsene Wenger has come out in defence of the big lumbering German. I'm not too sure of the connection but Wenger thinks that the problem is simply because we haven't had a settled back four all season.
Wenger said on Arsenal.com: "I believe he's on the way up," (Not in the picture below obviously! – Ed) "He had a difficult start to the season but he's been much sharper lately.
"Many people had a go at him for the corner at Liverpool but I looked at it and he had no chance to get that ball in the zone where he was.
"It's not easy for him. When Koscielny comes back and with Debuchy being back, we will be more stable. Even in midfield we need to get our players back and to defend better.
"We had no stability at the back and when you look at the number of players who played centre back this season, it's not easy."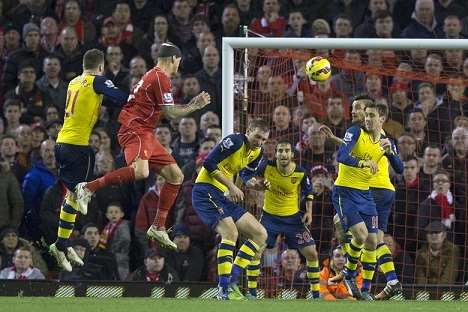 So obviously if Koscielny had been playing then the Frenchman would have seen the danger and done something about it? Maybe he would have told Mertesacker to jump when the corner came in? So is Wenger saying that a defender with 100 caps for Germany could not decide for himself that his superior height may have been more helpful up in the air than closer to the ground?
Do me a favour Arsene…