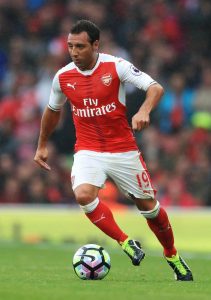 Santi Cazorla's genius has reached mythical proportions for Arsenal fans, and it seems now that we have never found a playmaker to emulate his silky skills for the Gunners. But Arsene Wenger, who has seen hundreds of awful injuries to Arsenal players in his lifetime, including the broken legs of Eduardo and Ramsey and the never-ending problems of Abou Diaby, has now admitted that Cazorla's injury was ¡the worst he'd ever seen', although it seems that Le Prof believes that the Spaniard's problems are now over and thinks he will return to the squad in January, when he can be reinstated in the Premier League squad. Wenger said: 'It is the worst injury I have known.
'It started with a pain on the achilles and it has gone from worse to worse. I know how much Cazorla loves to play football and be out there every day and I really feel sorry for what has happened to him.
'It is unbelievable. The last time I saw him was a month ago and I told him to prepare as well as he could and try to practice.
'I hope he comes back in January. I left him out of the squad but hoping he will be available in January."
Santi himself also seems confident of his return, as he described his injury recently he said: 'He [Dr Mikel Sanchez] saw that I had a tremendous infection, that I had damaged part of the calcaneus bone and it had eaten the Achilles tendon. There was eight centimetres of it missing!
'I do not have clearance until January, but I will come back by then.'
I must admit, I have been dubious that I would ever see Cazorla back in the Arsenal colours, but going by what he and Wenger have said, we may yet get him back for the second half of the season. I will definitely have my fingers crossed for him….
Admin