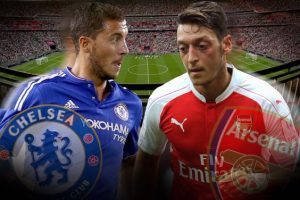 Last Wednesday's League game against Chelsea was a nail-biting affair with both teams going hard for the win. Their were 33 shots in the game, with 19 going for Chelsea and the Blues could have opened up a lead if Morata had his scoring boots on.
The Blues got a disputed penalty to cancel out Jack Wilshere's opening goal and when Alonso took the lead with six minutes to go it looked like Chelsea's game, but Bellerin smashed in a last gasp equalizer. Wenger is hoping for a less exciting game and wants his defence to stop giving away so many chances! He said: "In the championship both teams have one game to get the three points,"
"In this tie, over 180 minutes, it's always a bit different.
"You want to go there, be solid and try to take advantage of every mistake, of every weakness, to win the game. We also know there is another game after that, and we need to be solid defensively too.
"I believe it can be a very attractive game, but football is so unpredictable it can as well be a locked game, where both teams know each other well, they know they have 180 minutes to win the tie, so both things are possible. It can be a crazy game, but as well it can be locked.
"Overall we gave too many chances away in the game [last week] and we were a bit unlucky as well as their penalty was a bit unfortunate.
"Overall going forward we were outstanding, we had some outstanding moments in our game of combination at high pace and created football we want to play, and as well I believe we showed mental resources until the last minute. The players' [attitude] has been outstanding and we responded again to come back to 2-2.
"I would love to win [the Carabao Cup] because we are now in the semi-final and if it's an opportunity we will try to take it. There is still a long way to go because you have Man City against Bristol City and then it is us against Chelsea, so it is a bit similar to last year in the FA Cup."
Man City only beat Bristol 2-1 at the Etihad last night, so the minnows still have a chance to create a shock in the home tie, but it would be fantastic if we can beat Chelsea and City again to snatch another trophy from the two big-spenders.
I don't care how we get it, I just want the win! Come on you Gunners!
Sam P