Gunners Seek January Signings To Bolster Squad by CP
We're thrilled that Arsenal is finally opening up its treasure chest and looking at signing some new players during the January transfer window. Although the team is performing far above expectations, it will desperately need some new blood if it hopes to continue its success through the second half of the season.
The team seems to have missed out on any hopes of signing a new striker in Bayer Leverkusen's Javier Hernandez, and we've discussed our doubts of a deal for Pierre-Emerick Aubameyang. However, there's still time and hope for the team to make some big signings in the coming weeks. We know that the team is in need of some added support on the midfield and the Gunners look to be on the verge of signing FC Basel's Mohamed Elneny.
Given Arsenal's unbelievable string of injury problems, to say the team has overachieved so far this season would be a drastic understatement. The team has been without many of its first team players including Alexis Sanchez, Danny Welbeck, Santi Cazorla, Francis Coquelin, and Jack Wilshere, with many not due back in action until at least the end of the month. Although the team has played amazingly well, there's no way they can keep this up forever without the option of resting some key players like Mesut Ozil, lest they find themselves in the same position once again.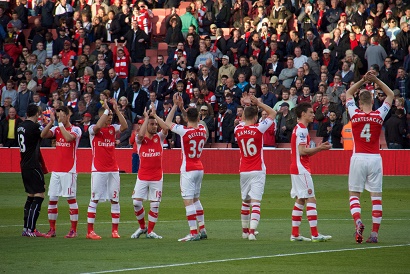 In addition to Elneny, there are rumours that the squad is looking to re-sign former Gunner Oguzhan Ozyakup from Turkish club Besiktas. It's an attempt to further reinforce its midfield and give some players a much-needed break. If Ozzy looks a bit familiar to the Arsenal faithful, that would be because you've seen him before. He actually came up in the Arsenal youth academy and spent his debut year as a first-team player for the Gunners during the 2011-2012 season. He signed with Besiktas in 2012 and has been there ever since. It's still a long shot that he'd be signed this January (summer is more likely), but he could make for a suitable replacement for the currently injured and quickly aging Santi Cazorla.
As of this writing, Arsenal sits at the top of the Premier League. They're two points ahead of Leicester City, who sit in second place following their surprising season and a full three points ahead of Manchester City. With players steadily returning from injury throughout the second half of the season and potential gains during the transfer window, the Gunners have a good shot at some Premier League silverware come May.
If you could have just Elneny plus one more player to win us the title, who would it be?
Cody