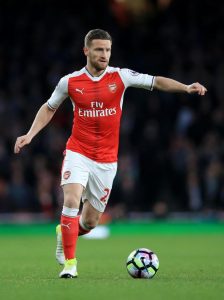 The Arsenal defender Shkrodan Mustafi was taken off in bizarre circumstances in the game against Manchester United, when he gave away the ball which led to United's second goal, and then immediately went to ground and called to be replaced. After the game, when asked, Wenger said: "I have no idea what's wrong with him".
Even yesterday, Le Prof was coy on the defender's injury ahead of the Southampton game. He said: "The only one out at the moment is Mustafi. He is certainly not available for Sunday. There's a little chance of him coming back for West Ham, but he will not be available for Sunday."
So we are not sure what's wrong with him but we do know we will need to pick another player for the back three this week. There are quite a few possibilities at the moment as we have hardly any other injuries. Matthieu Debuchy played well in midweek and looks back to his best. Wenger has used him as a central defender in previous years and he has not looked out of place. Rob Holding also played against BATE and had very little to do in that game. Calum Chambers also continued on his road to match fitness that night and could now be ready for first team duty.
Per Mertesacker was not even on the subs bench for that game, and it is possible that Wenger had decided to save him for Sunday's game, although an ageing trio of him, Koscielny and Monreal may not be able to cope with the pace of Charlie Austin in the Saint's forward line.
Le Prof recently used Francis Coquelin in that role as well, so there is another possibility. Who would you choose?
Admin