Last season, Arsenal started off in great style with a 2-0 win at tonight's opponents Crystal Palace, which gave us the impetus to win the first 5 of the season and put ourselves firmly in the title race. We actually won every single London Derby in 2022/23 and will be hoping to carry that on today, we also beat Palace 4-1 when they came to the Emirates back in March.
But we also need to be aware that the Eagles became a lot harder to beat once Roy Hodgson took over at Selhurst Park, coincidentally just a week after our win at the Emirates, and he took them far away from the relegation zone to end up in 11th by the end of the campaign.
It is also worth noting that since Hodgson arrived, Palace did not lose another game at home with three wins and two draws to his name. It is also worth mentioning that they were already hard to beat at Selhurst Park, and in fact have only lost once in their last 10 League games, and that was only a 1-0 defeat by Pep Guardiola's treble-winning Man City side.
Here is Palace's last 10 home games….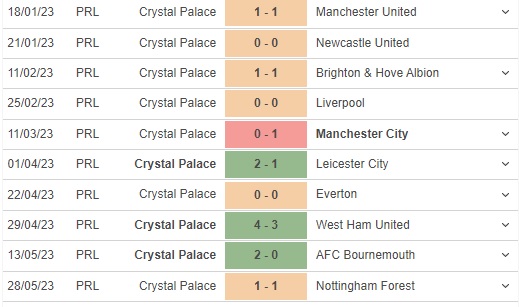 Can you now see why I think that the Gunners may struggle to come away with all three points tonight?
There is one other little fact that worries me. While Roy Hodgson was remaining unbeaten in his last 5 home games last season, Arsenal themselves played 5 away games in that same period, and only came away with all three points once.
Now having seen the outrageous reactions to Dan making a prediction that Arsenal could lose this game, and getting hammered for it, dare I say that there is every possibility that tonight wont be as easy as some fans think it will be….
---
JustArsenal Show – NEO discusses Arteta's tactical set up for Crystal Palace v Arsenal
CALLING ALL ARSENAL FANS! Anyone who would like to contribute an Article or Video opinion piece on JustArsenal, please contact us through this link…