THE WORRYING PETR CECH STATS EVERY ARSENAL FAN NEEDS TO SEE by Russell Cane
An open letter to Arsenal fans…
Would you honestly rather see Petr Cech start the Carabao Cup final ahead of David Ospina?
If the answer is yes, perhaps his rapidly declining Premier League stats compiled by Oulala.com since joining Arsenal may change your mind.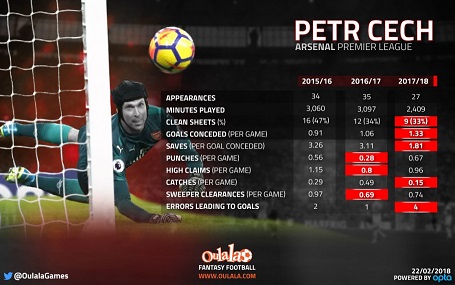 Cech is fading and he's fading fast.
Clean sheets and goals conceded aren't solely down to the keeper, we get that. However saves per goal conceded are.
Catches have turned into punches. Worrying. Would you rather see him punch the ball than catch it against Man City?
Then there's the last stat, errors leading to goals. Four. That's a scary number. More than any other player in the Premier League. In fact; more than any player in Germany, Spain or France too.
There is no reason why Petr Cech deserves a starting spot in the final, is there??
Russell