There are stats and there are stats, and as Bob told us earlier Alexandre Lacazette has some excellent stats from Ligue 1 spread over the last 4 seasons. But the fact is that the Gunners may now lose Olivier Giroud, with an Everton scout talking like it is a done deal that the Frenchman will be going to Goodison Park next season.
Many Arsenal fans think that Giroud won't be missed, and Lacazette is a certain upgrade. However exclusive stats obtained by Oulala.com show the North London club could be making a huge mistake.
Their stats team have analysed Alexandre Lacazette's goals for Lyon in Ligue 1 last season, excluding penalties, and our numbers reveal Arsenal are about to spend big on a player known as 'Penalzette' in France.
On the surface, Lacazette's 28 goals in French football's top flight looks great. However, considering 10 came from the penalty spot, the numbers paint a very different picture.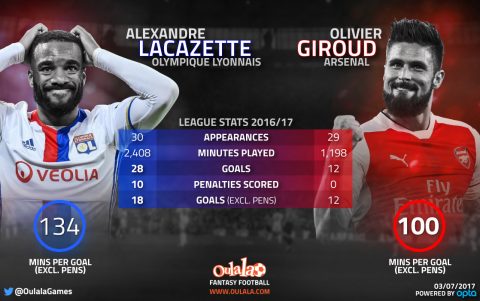 When broken down into minutes per goal excluding penalties, Lacazette found the back of the net every 134 minutes in a league considered far weaker than the Premier League.
In contrast, Olivier Giroud scored 12 goals with none coming from penalties, registering each goal every 100 minutes, 34 minutes fewer than the man expected to replace the 30-year-old at Arsenal.
Over the past three seasons, dating back to the beginning of the 2014/15 season, Lacazette has scored 76 Ligue 1 goals. Twenty have been penalties, a substantial 26%.
£44 million for a player with exaggerated goal stats due to the number of penalties scored, in a relatively poor league.
Are Arsenal about to make a mistake in signing Alexandre Lacazette?
Russell