BEST SEASON EVER? STATS SHOW WHY ARSENAL MUST HOLD ON TO ALEXIS SÁNCHEZ by Russell Cane
Is Alexis Sánchez (or any player) really worth £200,000 a week? Should Arsenal succumb to the Chilean's extravagant wage demands to secure the star's future at the club or allow him to leave for pastures new?
Following speculation that Alexis Sánchez could be on the verge of a move away from North London, with Pep Guardiola's Manchester City favourites to land the forward, the £200,000 per week that Sánchez is holding out for would see the 27-year-old top the club's highest earner, currently Mesut Özil who is reported to be on £140,000 per week.
Having entered the final two years of his contract, which is due to expire in 2018, rumours regarding Sánchez's future at Arsenal have began to circulate. Are the North London club prepared to meet the star's financial demands or will Sánchez be yet another player, in a long list of star names, to leave Arsenal?
So how important is it that Arsenal keep Sánchez at the Emirates? Well if the stats are anything to go by, we'd say VERY!
Our player performance data analysts (Stattos) at Oulala.com have taken a look at Sánchez's stats in seven key areas since he moved to Arsenal in 2014 to see how he has compared in his first five games this season to his two previous campaigns at the club.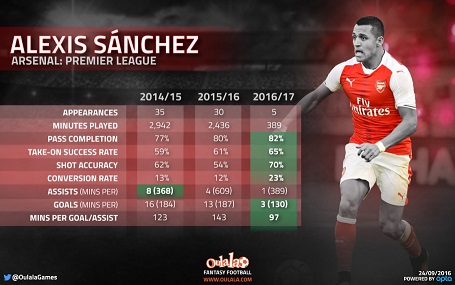 The 27-year-old has completed 82 per cent of his passes this season, an improvement on his previous two campaigns. His take-on success rate is also up, having completed 65 per cent of all dribbles attempted.
In front of goal, Sánchez's stats continue to impress. His shot accuracy of 70 per cent is better than ever before, while his conversion rate of 23 per cent has also increased.
Although Sánchez's minutes per assist ratio is slightly down in contrast to his debut season in 2014/15 (368 to 389), his minutes per goal ratio has improved, now standing at an impressive average of 130 minutes for each of the three goals he has scored in the Premier League this season.
Overall, Sánchez's average of a goal or an assist every 97 minutes is a vast improvement to his previous two campaigns.
Arsenal face Chelsea at the Emirates Stadium on Saturday. The two sides have each registered 10 points from their opening five games in the Premier League and sit fourth and fifth respectively.
Sánchez will be one of a number of key players Arsene Wenger will be relying on to help guide Arsenal to their third successive victory following wins over Nottingham Forest in the League Cup on Tuesday and Hull City in the league last weekend.
However, should Arsenal lose a player of Sánchez's quality to a rival club, breaking the 12-year drought of not winning the Premier League will not get any easier, as highlighted by the departures of stars such as Robin van Persie, Cesc Fabregas and Samir Nasri, who all of course went onto win the title with other clubs.
He's undoubtedly playing the best football of his Arsenal career but is Alexis Sánchez really worth £200,000 a week? Should Arsene Wenger bite the bullet and offer the Chilean the deal he wants?