New Kid on the Block : Emi Martinez
On the verge of leaving Arsenal in the summer, Argentine 22-year-old goalkeeper Emiliano Martinez feared that his time was up at the Emirates after Arsene Wenger signed David Ospina as back up to number one goalkeeper Wojciech Szczesny. Jumping forward a few months we've seen the young goalkeeper thrust into the spot light of the first team. With some excellent performances in both the Premier League and the Champions League, Martinez has quickly become one of the most talked about goalkeepers in European football.
Martinez kept his third clean sheet in a row after Arsenal's 1-0 win over Southampton on Wednesday night. Since standing in for regular number one Wojciech Szczesny the third choice goalkeeper has risen to the challenge and made a big impression. In fact, Martinez has gone as far as saying that he now wants to challenge Szczesny for the number one spot. A clear sign that he is full of confidence on the back of his superb performances.
Our friends at Opta powered fantasy football game
www.oulala.com
have focused their attention on the two Arsenal goalkeepers on a per game basis and Martinez has a point as to why he deserves Wenger's backing. The stats suggest that Szczesny will face a fight in regaining his first team spot once he regains full fitness. Martinez leads the Pole for clean sheets, fewer goals conceded, saves per goal, catches and punches.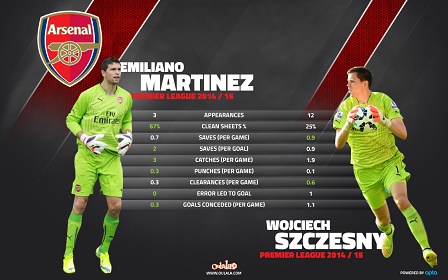 With Szczesny and Ospina both due back from injury during December, Arsenal manager Arsene Wenger faces a festive headache in whether to stick with the ever impressive youngster or to recall Wojciech Szczesny. Wenger may now consider crossing Chelsea's Petr Cech off of his Christmas shopping list with the goalkeeping talent that has emerged at Arsenal.