The Borussia Dortmund attacking midfielder Henrikh Mkhitaryan has certainly made a name for himself since arriving from Shakhtar Donetsk for €25 million in 2013, and with just one season left on his contract with the Bundesliga giants he is ripe for the picking.
According to the Mirror, the Slovenian captain is stalling over a new contract extension, and if they don't come to an agreement soon then Dortmund will have no choice but to sell him or risk him leaving for free next summer.
There have been numerous rumours linking him with a move to either Chelsea or Arsenal after it was reported that the 27 year-old was seen house hunting in London. If this is true then it would seem to signify that Mkhitaryan has no intention of renewing his contract and will definitely be on the move this summer.
So why is he in such demand? It is because he has hada season of Lampardesque proportions in the Bundesliga, and his stats put all of Arsenal players to shame, including our assist king Mesut Ozil. Check out these comparisons…..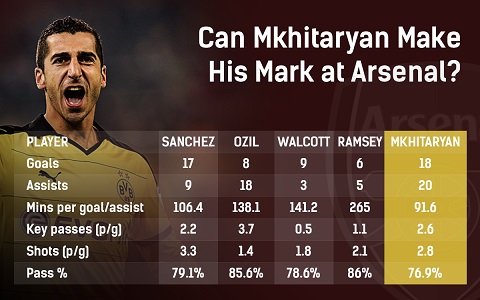 We all know that Ozil has created more chances than any other midfielder in the Premier League, but the German just does not match that with the goalscoring feats of many attacking mids. Imagine having an Ozilthat scores more goals than our strikers and you get an idea of how good Mkhitaryan hasbeen this season.
Go get him Arsene!
Darren