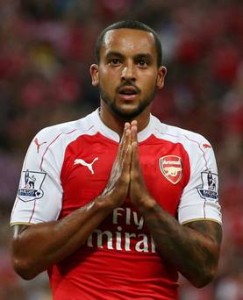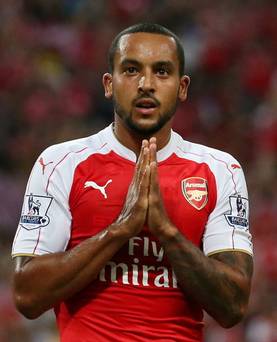 Theo Walcott may have been the longest-serving Arsenal player on the pitch last night, but when has he ever showed any leadership skills or battling qualities to deserve the right to inspire our youngsters to play the Arsenal Way? There were other more-inspiring players on the pitch, like Jack Wilshere for starters, or even Francis Coquelin as the midfield general for a change. These two have real hopes of improving enough to make the Gunners First XI, but I really cannot see Walcott ever being a starter for us ever again in the Premier League.
The pundit Chris Sutton made his feelings clear when he saw Theo get the captains armband. "He hasn't improved anywhere near enough," Sutton said on Eir Sport.
"He burst onto the scene at Southampton and I think he's flattered to deceive for years.
"And, how uninspiring must it be for the Arsenal players seeing him, as captain, leading you?
"He's not captain material. The 10 other players are far more captain material than him.
"I'm really disappointed with him, he's a choker, he doesn't want to show for the ball."
I have to admit that there were very few players last night that looked like quality, but Wilshere came closest to scoring the winner, and Olivier Giroud had his chances to give Arsenal the lead as did the misfiring Walcott, but there was no leader trying to get the team motivated to fight for the points. Why on Earth did Wenger think Walcott was the right choice???
Darren N