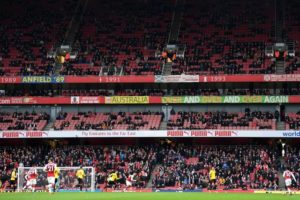 It has been very clear to everyone that the Arsenal fans have been boycotting the Emirates in the last two home games against Man City and Watford, so much so that even Arsene Wenger admitted that it was a worry and he would be trying to get the fans back onside.
Although we lost 3-0 to Man City in an awful week, we got back to winning ways again with victory in the San Siro and then we destroyed Watford, but are those results going to be good enough for the fans to fill the stadium again tomorrow?
Aaron Ramsey is the latest Arsenal player to remark on the stayaway fans as he said today: "Hopefully there won't be so many empty seats, hopefully our performances on the pitch will encourage everyone to come back.
"We needed the result in Milan, it was a tough run for us. Sometimes these things just happen. Hopefully we can build on it and go from strength to strength."
The fact is that this Europa League match is included in season tickets and, according to the Arsenal website a couple of weeks ago, the fixture is totally sold out. It may have a little more interest as we are playing one of the European greats (or like Arsenal, they used to be!) but will there be enough interest for the Arsenal faithful to change their minds about boycotting the stadium?
I doubt it!
Darren N