Everton have had an awful season by their standards but since Sam Allardyce arrived the Toffees have moved back up the table and are now comfortably sitting in 9th place. Despite their improvement, they were on a four-game losing streak when Arsenal generously sold Theo Walcott to them in mid January, and they have one draw and one win since then, and Theo Walcott has been their best player.
In fact, according to the stats people Oulala.com, Walcott is already their most dangerous player!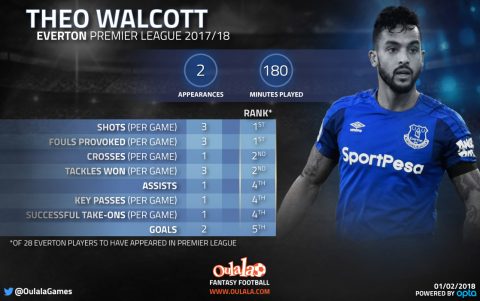 So this weekend Walcott, who was at Arsenal for 11 years and scored over 100 goals for the Gunners, will return to the Emirates and I am sure he will get a rousing welcome from the fans, but they may not be so accommodating if Theo repeats his goalscoring heroics against the Gunners after scoring both goals in Everton's midweek win over Leicester.
When asked if he would like to score against us, he said: "That would be fantastic.
"It was one of the fixtures I looked at when I signed and it will be an emotional game for me, but it is all about winning.
"We have made a good start but everyone now needs to recover because we have another game around the corner.
"I can't remember the last time I played two games in the space of a few days, but it will be a fun weekend for me."
Personally I would be very worried if we were playing at Goodison Park, but as Everton have only won one away game this season we shouldn't see another shock on Saturday, but you never know…
Admin