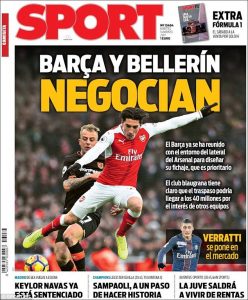 There were many rumours about Arsenal's Hector Bellerin wanting to move back to Barcelona last summer to rejoin his family, and it would appear that the rumours were based in fact according to the BBCs David Ornstein who 'revealed' at the end of the window that Bellerin actually asked Wenger if he could move back to Spain, but Wenger refused to countenance any transfer talks with Barcelona as the 22 year-old still had 6 years left on his recently signed contract.
But now the reports are saying that Juventus are also keen, but have put off by Arsenal's valuation of £40m, but thee young Spaniard is still only 22 and with a long contract we should be able to secure an even bigger fee. Juventus are said to be interested in acquiring his services after losing Dani Alves to PSG last summer, but it is unlikely they will be willing to pay as much as Barcelona may offer. The Old Lady are currently looking for their 7th Serie A title in a row but are not finding it so easy in this campaign with Napoli in blistering form above them in the table.
Bellerin was brilliant when he burst into the Gunners First team a few seasons back, but last year his performances dropped off and he was even left out of the side for a while in favour of Alex Oxlade-Chamberlain, and he often seems more interested in how his hair looks than making blistering runs down the wing. The fact is that we currently have Nacho Monreal and maybe Calum Chambers available when fit to replace Bellerin on the wing, and if he is so keen to leave maybe we should just sell him anyway.
So, would you accept £40m for him in January?
Admin