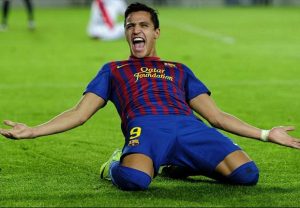 It certainly looks like Man City are nowhere near giving up on bringing Alexis Sanchez to the Etihad, despite Arsene Wenger continually asserting that Arsenal have no intention of letting the Chilean leave this summer. The lastest Arsenal rumours are saying that Pep Guardiola has offered to give Wenger Raheem Sterling as part exchange for the wantaway Gunners star.
The report states that City don't think that Wenger will accept a deal unless they offer a player in return to appease the fans, and most pundits thought that Sergio Aguero would have been the most likely to move the other way, but that rumour seems to have been discounted, although we couldn't rule out it coming back if Arsenal still refuse to countenance a deal including Sterling.
I'm not sure personally that Wenger would go for this deal, but considering Sterling is still only 22 and has got five years experience of playing at the highest level with Liverpool and City this could be a deciding factor if the England international would agree to the deal. He can play on the wing or as a striker, which seems to be requirement of every forward that Wenger buys, and has been known to score some spectacular goals from nowhere.
I think I would take this deal if I was Wenger, would you?
Admin