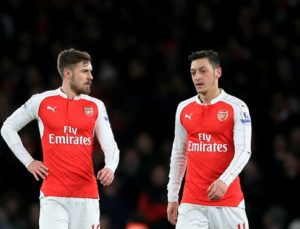 As Unai Emery has been experimenting with his Arsenal players to see which combination works best together, the Spaniard has tried shunting Mesut Ozil out to the wing while playing Ramsey at Number Ten and vice versa, but it now seems obvious that they both prefer to be in the central role with reduced defensive responsibility, and are far more ineffective out wide.
With that in mind, our ex-Gunner Stewart Robson believes that the reason Emery has decided to let Ramsey go is because we can't afford to have too such similar players in the side. "I would say Arsenal have made the right decision because the two players that show the good and the bad of Arsenal are Ramsey and Ozil," Robson told Love Sport.
"Ramsey seems to run forward much quicker than when he's having to run back. He seems to be good at sprinting into the opposition's box and you think 'that was great pace!' but when he's got to run back the other way, he rolls his head and looks as though he can't run.
"I don't believe this thing that you're an attacking midfield player or you're a defensive midfield player. You have to do both sides of the game.
"You have to be good defensively and you have to be in the attacking sense. If you're only one of those things, you'll get away with it against the weaker sides.
"But when you come up against the top, and Arsenal want to be one of the best, you need to do both sides of the game.
"And I don't think Aaron Ramsey can do both sides of the game. That's why I would think, for the money that they're talking about, it's best to let him go now."
"The most important time in any football game is when the ball changes hands," Robson added.
"Arsenal have always been quite good when they've won the ball back [because] they can counter-attack quickly and spring to life.
"I think of the likes of Aaron Ramsey who sees they've won the ball back and races forward.
"Arsenal have never been quite so good – or some of their players haven't been – at recovering when the ball is lost.
"That's been Arsenal's problem for many, many years. But I think Unai Emery is trying to address that. But it's going to take the mindset of some of the players, Ozil in particular and Ramsey.
"They are the two players that don't react quickly enough when the ball changes hands. Some of the defenders when they are outnumbered or have to make quick decisions haven't always made the right decisions so they need to be briefed a little bit more tactically.
"They need to make better decisions when they're being counter-attacked. I would put Holding and Mustafi in that category."
So if it is Ramsey's wages that make it sensible to let him go, then surely the same argument goes for Ozil? I know the decision has already been made as to which one is leaving but if YOU had the choice, which one would you prefer to sell?
Admin