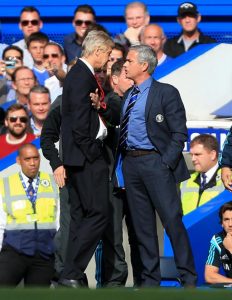 Recently the celebrity Arsenal supporter Piers Morgan said he would take Jose Mourinho as Arsenal manager "in a heartbeat." Many Arsenal supporters think Arsene's best days are behind him and maybe that's true. So what sort of person do we want to take over from Mr Wenger when he or the club decide its time for a change? The case for Mourinho is interesting.
Morgan tweeted on Tuesday night: "If Manchester United fans don't want Jose Mourinho, I'll take him at Arsenal in a heartbeat. #winner."
Undoubtably at his best his sides are difficult to beat. He has had success at different clubs but often seems to lose the dressing room after a couple of seasons. He is often rude and arrogant and on occasions displays a lack of judgement. The Chelsea Doctor episode springs to mind. His teams often "park the bus" in efforts to gain a point. His current club although having a relatively successful season are a shadow of their former teams under Sir Alex. Considering the money Man United have spent under Mourinho, maybe they should have had more success and play a more exciting brand of football.
Do we Arsenal supporters want a manager and board that will return us to the force we once were? We sure do. Do we want a manager so lacking in class as to be an embarrassment to the club? Probably not. I want our Arsenal to be competing with the top teams in Europe on a regular basis but does that mean we have to lower our standards of who we are? We are Arsenal. We do things right. We are polite to the media. We try to be a class act. Would we really take Jose Mourinho in a heartbeat?
Roger Brooks [Teddygunner]