Arsenal are being linked with a number of transfer targets at present so we thought we'd take a keen look at how we could be lining up for the coming campaign.
Kylian Mbappe is the man everyone is talking about, and he will almost certainly give us a huge boost going into the new season should we manage to beat our rivals to his signature, and at present, we appear to be winning the race.
One player we have already concluded a deal for is Sean Kolasinac, which will likely see him take up a place opposite Bellerin down the flanks as wing-backs, with Arsene Wenger insisting that we will be continuing our use of the newly favoured 3-4-2-1 system.
Arda Turan is a name that is also strongly linked with a move to the Emirates Stadium, and he could share the role in behind Kylian Mbappe with Mesut Ozil, although I'm hoping his signing would not assure an exit for one of Alexis or Mesut.
Two more players have made it into my possible XI, with Leon Goretzke and Jack Butland currently on our wishlist supposedly. The midfielder would likely be viewed as a long-term replacement for Santi Cazorla, while those central roles would be shared between the Ox, Ramsey, Xhaka and one of Elneny and Coquelin.
Petr Cech left many questions unanswered after a number of below par displays last term, including embarrassing showings against Chelsea, and Butland is tipped as his possible replacement.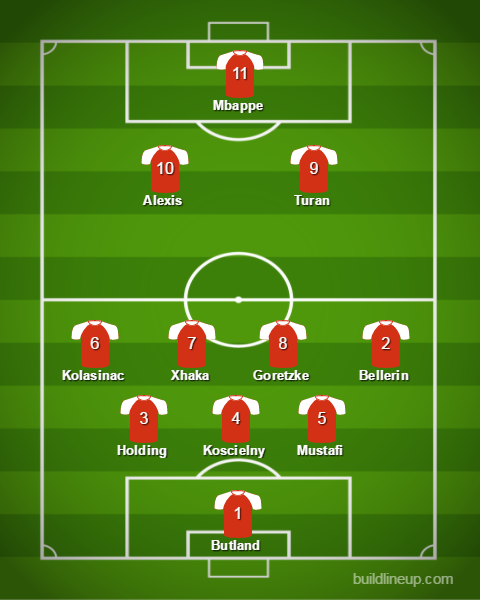 Would this XI be formidable against anything that our rivals could muster against us?
Would these inclusions make us the team to be feared in the division?
Pat J