WSL Final Day: Arsenal Women have all but secured Champions League qualification over Man City by Michelle
To achieve Champions League qualification for next season, Arsenal Women must retain their 3rd place spot in the WSL. Currently 3 points above 4th place Manchester City, our Gunners must beat the 5th place Villans at Meadow Park on the final day of the WSL season, to absolutely ensure qualification.
The final day of the WSL season is Saturday 27th May, with all 12 WSL teams in action. All fixtures will kick-off at 14:30 UK: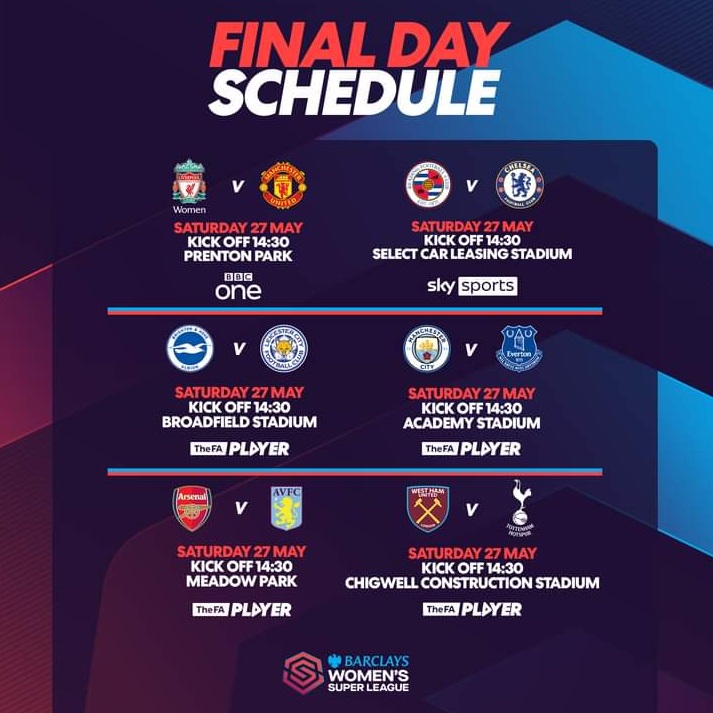 The top of the WSL table looks like this as we head into the WSL Final Day:

And below is a brief analysis of the WSL Top 4 fixtures:
Reading v Chelsea
Chelsea are 2 points clear of Man United at the top of the table and if Chelsea win, they will secure a fourth successive league title. Reading are facing relegation at the bottom of the WSL and they will not want to be relegated without putting up a fight. Could Reading be the one's to upset the WSL apple-cart?
Liverpool v Man United
United have never won the WSL and are two points behind the Blues going into the final league game of the season on Saturday. A Blues defeat would see United win the WSL crown, while a draw for Emma Hayes' team would mean Skinner's side have to beat Liverpool by six goals to overturn the goal difference, with United manager Marc Skinner telling the BBC:
"We need to win the game regardless. We have to really focus on what we can do, and more importantly enjoy it. Maybe we're still in contention to win it, and if we don't we come second.
"To disrupt the historical top three, that is a big, big season regardless of what happens elsewhere. I want people to give this team the credit they deserve."
Arsenal v Aston Villa
Currently in 3rd place, Arsenal Women have all but secured Champions League qualification for next season – a win against Aston Villa would see our injury-stricken Gunners absolutely ensure that qualification.  In Arsenal's last 5 WSL outings against Aston Villa, the villans have never won a match but Carla Ward's side have certainly stepped up their game this season, with some key recruitments including Arsenal legend Jordan Nobbs, and they will be looking to end the season on a high too!
Manchester City v Everton
Manchester City will most likely to finish in 4th place in the WSL. City are 3 points behind Arsenal, and 11 behind on goal difference therefore, to finish 3rd and qualify for the Champions League City need to hope Arsenal lose against Aston Villa but crucially Man City would need 11 goals without reply to overturn the goal difference, with Man City Manager Gareth Taylor telling the BBC.
"It is a blow because you love being in the Champions League," he said. "It is so tough now. The hardest place is getting in it and then the qualification process – certainly for us."
Can't believe the end of the WSL season is tomorrow! How did we get here so quickly? Let's hope Arsenal can end their season in style!
COME ON YOU GOONER WOMEN!
Michelle Maxwell
Follow Michelle on Just Gooner Women on Twitter for regular updates on the Arsenal Womens Team!
Do you want to read more about the Arsenal Women's Team? Click here….